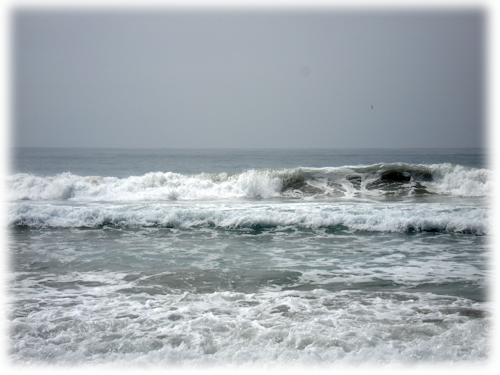 When I stood on the beach, sand creeping its way out from under my feet as the tide rose and fell, gazing out onto the Pacific Ocean, no words could describe the euphoric feeling I had. In it's vastness I felt as if it was going to swallow me up, but in a way I wanted it to. Its dark elegance enthralled me—its mystique took my breath away. Such beauty and yet such power—its waves threatening to sweep me off of my feet were both daunting and beckoning me. I was cautious not to let them overtake me, but I somehow was thrilled by the idea of it.

My heart threatened to keep my lungs from working correctly—I was confident that I should stay safe on the shore, but I was also doubtless that I should leap in and let Creator Elohim rock me to sleep in what I imagined to be His strong arms. What it would be like to be wild like the ocean I will never be able to comprehend, but the mystery is what makes it so enthralling.

The ocean isn't the only thing that has given me these feelings. Though my fascination and ardency for it may enhance these melancholy emotions, I believe this same passionate and thrilling sensation can be found in any element of life.

In our corrupt world there is risk and potential catastrophe to be found in anything beautiful—oceans, mountains, tornados, fire, rain, the list continues. Finding beauty and inspiration and passion in what we are given is essential on this earth and throughout the universe.

The only place to find true, unfaltering, unscathed beauty is in our Savior, Jesus Christ. With Him, we can look at this dying universe in a new light. Amidst the danger and destructiveness of so many things in the world, perhaps if we would just change our perspectives and view the brilliance in things, we'd be given a new fervor and admiration for the God that created us and is in control of all of nature's magnificence.

Think about the power of an earthquake….it can shatter windows, divide the earth, and even bring the tallest buildings to their knees—but God's power surpasses the power of this so greatly that He can control it to unimaginable extents. What has happened every time man has tried to take control of a dynamic natural power? It can't be done. Man is not strong enough to control the might of God's creation. All we can do is stand in awe of the unutterable strength, vigor, and omnipotence that the Lord God possesses.

As I witness new wonders of my Savior's artistry, whether it be through nature or in my own life, I will think about the specific beauty that can be found in it. My heart will always be my sanctuary, for therein lies my true inspiration, emotion, and perspective—Jesus Christ.