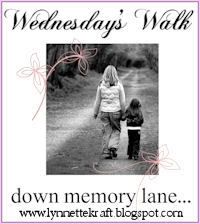 Join me in "Wednesday's walk down memory lane".
---
Leaves crunched under our oversized rubber boots as we pushed our way through our tree row, which we had called "Sherwood Forest" since the first moment we laid eyes on what would be the birth place of thousands of stories. Long walking sticks in hand, we discussed seriously which route we should take through the forest in order to reach the other side without confronting any hidden foe—dragons, orcs, and the dreaded Tyrannosaurus Rex were common villains in these woods.

Of course, we never made it through without our fair share of hardships…what fun would our adventures be without a few thrills? What thrilled me most were the silver puddles that sat motionless in the grassless earth beneath the trees. These were no ordinary puddles—to me, they were passages to another world. The trees reflected in them to an exactness that made it easy to imagine another world waiting to be explored on the other side of these windows into the earth. I always wanted to jump in and see where it would take me, just like Digory Kirke and Polly Plummer in C.S. Lewis's classic,

The Magician's Nephew

. I knew deep down that it couldn't be real, but my child's heart told me to keep pretending.

After a long afternoon of dreaming up exciting stories and even living them to a certain extent, my brother Jared and I would go back inside the house, cheeks flushed and noses pink from the icy cold breeze outside—but the temperature didn't deter us from going out again the next afternoon, and the next, and the next. While a pot of stew simmered on the stove, wafting smells of home throughout the air, we would rush to our "clubhouse"—a closet which we had cleaned out to make just enough room for the two of us to squeeze in with a flashlight and a book.

We'd sit, eyes wide with wonder as Jared read chapter after chapter of his books to me. Every once in a while, he would even have one of his own stories to share with me; always starting by professionally saying the title and then with a hint of pride in his voice he would follow with "By Jared Kraft". I must admit, half of the time, I had no idea what the actual plot of the story was, but still my imagination was constantly stirred by the atmosphere of the tales.

After sitting in the cramped closet for what never seemed like long enough, we would emerge to hear the sound of our momma's voice calling us for dinner. Food never tasted as good as it did after a day of tramping through the "forest".

The year when we first moved into our big country house was one of the most exciting of my life—five acres of our own land for my imagination to run wild! I was five years old at the time and Jared, eight. Now, as my younger brothers are around the same ages (Jonas, 5 and Silas, 7 ½) I love to see them running around our property, making treasure maps, sword fighting, etc. Using the imagination that God gave them to create their own stories and memories for when they grow older. When I look at them and I see their eyes sparkle with the same glimmer of adventure that I always felt as a child, my heart swells. The freedom to imagine is something only a child can behold in all its glory. I hope that my children will be able to experience the same thing. Keep dreaming alive!
---
To read more memories, please visit Lynnette Kraft @

Dancing Barefoot

.