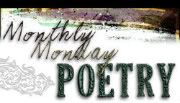 Click here to learn how to join in on "Monthly Monday Poetry".
---
Moment by moment pressure takes its toll
This way, then that, the pendulum moves
Ringing so softly the rhythm of voices
Telling you which side you should choose

"Holier than thou" one side states, reserved
Steady the ticking of judgmental clocks
"We've taken no vow!" the other shouts
Pushing, pushing, the pendulum rocks

Both are beckoning with promise in words
Fingers slip from their hold as the others call
A taste of one leaves craving for the missed
Like sun and stream; just one and you'll fall

An ill fit for any, the hands of the left,
Yet same the alien touch of the right
Faster, faster the pendulum swings
Inner struggle, the cause and effect of the fight

Eyes closed, teeth gritted, a silent scream
Love would be ashamed of this sight
"Silence! Silence! This Life was for peace!
Love, brethren, Love…Light, daughters, Light"

Hands froze in air, hatred suspended in echo
From Love's eye fell a tear, crimson for sorrow
Down, down it fell—dancing through atmosphere
To the hum of man's dirge, lamenting the morrow

Further it sank into depths of the air
Then it broke; a burst on the face
Of Judgment, seized by unauthorized man
Rolling down filthy skin in patterns of Love's grace

Then tears fell all around, like rubies from the sky
Covering each man with the blood of His eyes
"Remember, remember, my children, my cherished
It was for your gift to love that I perished"