4.29.2009
4.27.2009
I have been really lazy with my posting lately! However, I shall soon make a return (on Friday) which none of you shall ever forget…It's randomness and awesomeness shall never be matched.
My family has made a tradition out of going to the Valley Center citywide garage sales every year for as long as I can remember. I've never been a great garage sale-er, but I always tag along if for no other reason than to spend some good time singing along to the radio and to have good conversations with my family. The citywides were this past weekend, and I was actually very pleasantly surprised with the amount of fun I had. It was great walking up and down the streets and finding multiple great movies for 50 cents a piece. I also found a couple cool things for my room (3 things to put on my wall…I'm going to have to organize my wall décor pretty soon, because it's getting crowded). When I get everything put up, I'll get pictures to show you all.
In other news, my friend Olivia and I started a new monthly feature over at
Imperishable Beauty
called
"Pearls of Wisdom"
. Follow
this link
to find out what it's all about. We're very excited to see what kind of insight we will gain through our moms' input on this blog, and we hope that you will all stop by and join in so that we can keep it going! :)
A couple weeks ago—as you may have read in my
"100 Things" post
—I had a violin recital. It didn't go that great, but it went a lot better than I expected it to! I get sooooo nervous playing in front of people; I was shaking like crazy through the whole performance. It takes a lot of courage to share this video with you, but I love y'all…so enjoy, and laugh at all of my wretched mistakes if you like. (I'm trying very hard not to make weird faces when I mess up!) Heehee.
I would also be so incredibly grateful if you would all pray for me this week. I have an orchestra audition this Friday at 6:44 pm (odd time, isn't it?), and I'm really, extremely nervous about it. If you could just pray that I'll do well and won't be all shaky and nervous when I'm there, I would be beyond thankful.
If you read
my momma's blog
, you might have seen that I also went to my friend's 16th b-day party on the same day as my recital. She said that she would share pictures, but I told her I would do it here. I don't really like dressing up—that fact was made apparent when I became dreadfully impatient in waiting through everyone's hair and makeup time.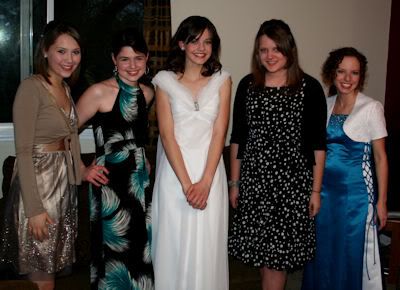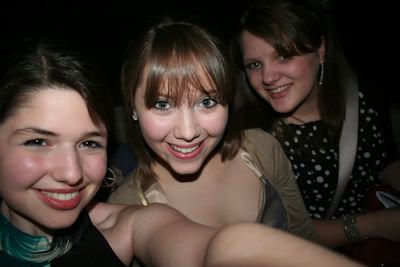 What can I say, I'm into jeans! It takes me about 3 minutes to put my makeup on and do my hair in the morning…it's not because I don't like to look nice, but I've got more interesting things to do, like blogging. lol. ;)
This last Friday was the Golden Belt Festival Concert. I woke up at 5:40 a.m., jumped in the car, and went to Salina to spend aaaall day singing. In the evening, my parents came to watch the concert and then we all headed home.
I haven't seen the video yet, but if I can, I'll get one up on YouTube so y'all can see what it's about.
Well, I plan to keep up on my blog more now that things have become a tad bit more organized for me, so stay tuned for my epic comeback post! You will seriously never forget it.
Posted by

Abigail Kraft
at 6:07 PM
6 comments.

4.22.2009
4.14.2009
4.07.2009
4.06.2009
4.01.2009