Join me in "Wednesday's Walk down memory lane."
---
I desperately wanted to post an April Fools memory today, but I don't have any! Oh well...
I couldn't think of anything to write about this morning, so I started going through my pictures for inspiration. I think you'll all appreciate this one.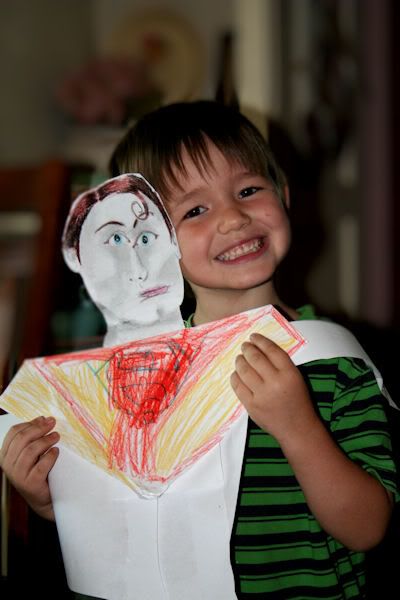 You like? This was a combined effort of Jonas' and my psychedelic artistry. Jonas did the original cutout (except for the ears, which I added later). Also, the big "S" on his chest was a product of me li'l bro's brilliant mind and ability to reproduce what he sees on the cover of coloring books perfectly. Oh yeah…he's the man. The face is my favorite part. Jonas drew it first—little dots for the eyes, a thin line for the mouth, big arches for eyebrows, and the nose pretty much stayed the same. Then, I—of course, being the stellar big sister that I am—took Bobo's work of art and "enhanced" it with my aptitude for shading and detail work. (Check out that cleft!) Pretty classic result…I'm rather fond of it. Oh, and you've got to love the hair. Bo thought that was pretty hilarious; it had him laughing hysterically.
---
Do y'all like my new blog layout? Make sure you pick up my new blog button and put it on your sidebar!
---
This Monday (April 6) is Monthly Monday Poetry, so I hope you'll all come back and join in.
Click here
for more information.
---
Since it is April Fools, I had to share this with you--
The top 5 April Fools pranks of all time
. They are HILARIOUS! Enjoy!