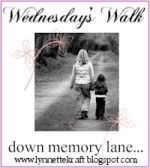 ---
Click on the picture above to join in on Wednesday's Walk Down Memory Lane.
---
I'm sure we've all blogged about our friends at one time or another; people who have enriched our lives, encouraged us, sympathized with us (even about silly things), laughed when we're being ridiculous, and truly accepted us (quirks included). I'm doing something unique today…something I never thought would be possible, but blogging has proven me very wrong. Today I'm thanking God for my special friend
Olivia
, whom I have never personally met.
Olivia was one of the first bloggers I came across after I started my blog. I read some of her blog posts, and could tell that we had a lot in common—I could tell so even more when she left a comment on my blog and referred to us as "kindred spirits". Is that not just SO Anne Shirley!? Ha!
My first impression of Olivia was that she was an extremely talented young writer—the passion she infuses into her blog is absolutely stunning—since then I've realized she is not only an insanely talented writer, but also a multi-faceted musician, photographer, "Christian Hippie", amazazing friend, and first and foremost a faithful and fervent child of Christ. To display all of this to me without having ever met me is an incredible feat, and I personally hope to be able to do the same in my life.
I think it's so incredible how God gives us such wonderful friends through the internet! I love all of you so much, and I praise God that He gave me the means to "meet" all of you and get to know you. You and all of your stories have blessed my life in many ways.
Happy birthday Olivia! I l♥ve you!
P.S. For all of you who don't know, Olivia and I started a joint blog a while back called
"Imperishable Beauty"
. Make sure to head over and check it out. A new series on honoring our future husbands is in the works! :)