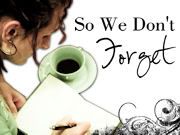 Join me in "So We Don't Forget..." -- This week's topic: What is a favorite "alone time" activity?

---
I have to admit--this subject is an ironic one for me. I really don't like to be alone--I don't like the quiet, I don't like having no one to talk to; it seriously creeps me out! Because of that, I think the main activity that I engage myself in while I'm alone is making as much noise as I possibly can.
For instance...
A couple of weeks ago my whole family went to the zoo except for Jared and I--Jared was in his studio in a building behind our house. So, I was completely alone. At first I thought "Oh, how fun! Now I can do all of my 'alone time' stuff that mom always talks about!" Well, I guess it works for mom, but not so much for me. I sat down with a cup of tea and a book, and I couldn't even finish the first paragraph I dug into because I kept hearing things--the stairs creaking, the wind blowing through gaps in our pocket doors, the screen door slamming shut after being blown open, the dishwasher--every single sound in the house I was suddenly aware of.
So, what did I do? I ran around (literally ran to make more noise), blasted the loudest music I could think to put on, and stuck a movie on really loud at the same time. On top of my obnoxious singing, it was a very interesting scene. At the time, I didn't think about how it would look if my brother walked in the back door from his studio--lucky for me, he didn't. (Yay. :P )
All of that being said, if I could do aaaaanything I wanted with my alone time, and I didn't have to fight against my own insecurity with being all alone and lonely, I would probably....uhhhh....as lame as this sounds,
sleep
. GAH! I hate myself for saying that! Somebody please slap me!
Ok, now that you all think I'm a complete bum, let me set that in stone with a display of what I do with my time.
Yes...I spent my free time last week learning how to tear a phonebook in half. I'm still working on it--I've only worked up to half of a phonebook so far, but I'll let you know when I get a whole one! It's going to be epic, and I will be soooooo (awfully) proud of myself.
Enjoy!
P.S. There's still time to join in on Short Answers! Also, 1 more day to get on my waiting list for a blog makeover! Check out yesterday's post for more info.