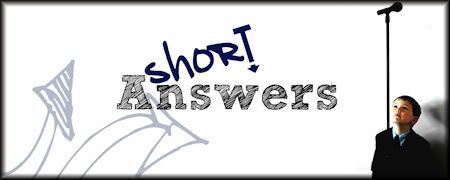 To grab this post banner, go here.
It's time for the very first installment of Short Answers! To join in, just ask the kid(s) in your life the five questions below, and write down their answers word for word. Post 'em on your blog and link up!
What year were you born?
Silas: Uhhhh, June 27th.
Jonas: When was I born?
Mmhmm
IIII don't really remember.
But what's your guess?
Hmmm…I have no idea. I was born in 1920.
Why do people wear deodorant?
Silas: To make them smell good. This is another one of those good looks things isn't it?
Jonas: Because so they can look handsome, right? They can smell good. They can go places and not look all crazy and look dirty.
What would you buy if you had a million dollars?
Silas: BACON! Lots and lots of bacon…And a new Mustang…And a barn…And a house.
Jonas: Um, a car and a gun…5 guns…And a house and a barn…And just another barn…And a secret hideout what goes underground.
What is a president?
Silas: Someone that rules over…I don't know…different countries like America or Kansas.
Jonas: A president for the world? A president for the United States of America?
Yeah.
The eagle. The American Eagle.
Where would you like to take your family on vacation someday?
Silas: New York.
Jonas: Branson or New York Deli or Wisconsin or….or…Hollywood or Branson or Kansas City….and one more. China…and I GOT IT! George Washington's house or the Chinese place what's called China. And one more one…Paris.