First off, I would like to wish my brother, Jonas (a.k.a. Jo, Bo, Jojo, Bobo, bro, dude, Quinnster, etc.) a happy birthday! He turned 6 yesterday. We had our big, boisterous family out for pizza and some fun time for the evening. So, even though he can't read this--Happy Birthday Jonas!!!!! :)
Secondly, I wanted to let you all know that during the beginning of the school year I will be closing the waiting list on
my design blog
(until I have a steady routine going). So I will be accepting the
first 3
people who ask for makeovers between now and Thursday! Make sure to
email me
if you want to get your very own blog makeover!
And now...

It's time for Short Answers! To join in, just ask the following 5 questions to the kid(s) in your life. Post their answers on your blog, then come back here and link up so we can read the brilliance of the child's mind!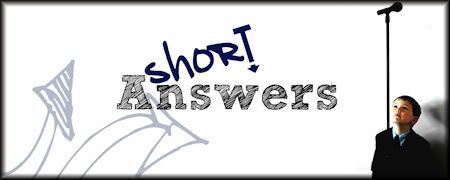 To grab this post banner, go here.
What's your Grandma's name?
Silas: Lova? Oh…that's one.
Ok, what's the other one?
Linda?
Uh…yeah. :P
Jonas: Um…Grandma….I have no idea. Grandma Lova? No…???
Yeah, that's one. What about the other one?
Um…Grandma….I have no idea. What's her name?!?!
You don't know?!
Huh-uh. I know Grandpa John and Grandpa….*gulp*
What is a hot dog made out of?
Silas: Dogs and buns.
What kind of buns?
Uhhh…I don't know. Dog buns?
Jonas: Paper.
Paper?
Mmhmm. *smile*
What's Arachnophobia?
Silas: What's arachnophobia?
I'm asking you.
I don't know. I don't think it's anything.
It is something.
Ok, what is it?
It's the fear of spiders.
I'm afraid of spiders!
Jonas: What is that?
You have to tell me.
Uhhhh…what again?
Arachnophobia.
Is it….something a type of animal?
Nope.
What is it!? Or I'll shoot your computer!
The fear of spiders.
What! Spiders are on my list! Scary girls are on my list too.
Who discovered America?
Silas: Hmmm…I don't know. Maybe no one.
Somebody did discover America.
Alaska?
No. It was Christopher Columbus.
Oh…almost like Christopher Walken!
Jonas: Chinese.
If you invented something, what would it do?
Silas: Change people into like monsters.
Why?
I don't know…get strong and stuff! *hums heroic theme* …and carry stuff and do stuff like that….like the barn and our house.
Jonas: Build lightsabers and guns what are real lightsabers and guns…and rockets, and droids. Making droids…woohoo….for the real lightsabers and guns.