...Yes, I know I've been talking a lot about violin recently, but I suppose that's just what's been on my mind. Thanks so much for all of your prayers! I'm sure they will help me greatly. :) It's strange, because there are some moments when I feel like I would rather do just about anything than have to get through another rehearsal, or performance, or even just practice time...but still, the more I envelope myself in it, the more I realize how much I love it.
A lot of you have requested that I put more videos up of me playing the violin--well, I promise you I will sometime soon...but as of right now, I don't have anything down well enough to share. I will though just as soon as I have something.
I'm so excited that today is the first day of autumn! I love watching the leaves turn to different colors...I love feeling the air get chillier...I love being able to break out the long sleeves and scarves...*sigh* I love the cool weather so much.
---
Ok, so I guess I'll break out the Short Answers now!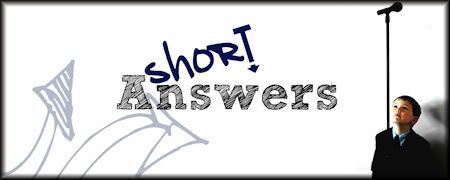 To grab this post banner, click here.

To join in, just ask the following 5 questions to the kid(s) in your life. Post their answers on your blog, then come back here and link up so we can read the brilliance of the child's mind!
What's your favorite thing about where you live?
Silas: Uh…Um…It's cozy? And…um…it's a big property.
Jonas: You mean like what city?
Yeah, that works.
Ok, Kansas City…we live here, right?
No, we don't live in Kansas City. We live in Wichita.
Oh yeah…WICHITA!? I love Wichita! I love all the buildings.
What do trains carry?
Silas: Human.
That's it?
Yup. And they carry gas and wheat. Some of them carry human. You know like "Oh, cool…I'm going to Africa! Let's hop on this train and go to Africa!" Like that country.
Jonas: Like what?
Like what do they carry in the train cars?
Like hay? And always some punkins…I have seen them on the olden days. And um…buckets. And lights, horses…ha...not horses. Pigs. Some have pigs, right?
What does a Sherriff do?
Silas: Keeps an eye on people?
What else?
Um…well, robbers...kills 'em. Or…not robbers. Murderers…he can arrest them until their life is over. That's it…I'm pretty darn sure.
Jonas: Guides people. Right?
Guides people, how?
Like wars and adventures, right?
Where does the gas station get the gas?
Silas: I don't think they…I think it gets it from…See, once the gas runs out, they fill it up with gas cans…and they fill it all the way up to the top and they put the lid back on…and they're done.
Jonas: From the ground. Right? See there's big holes like deep in the ground like tunnels full of gas. And there are cords and if one breaks then all the gas gets out and gets on all the cars and stuff. And it gets full.
If you could do whatever you wanted for a whole day, what would you do?
Silas: Eat. Candy.
That's all?
Heh…yeah. And watch TV…Star Wars TV.
Jonas: Um…do karate and fight. I know how to do karate. I know how to do a full split…I know how to fart! *farts*
Oh my.
edit: Sorry guys!!! I forgot to put the MckLinky up last night...I guess I should have these already prepared before 1:00 in the morning, eh? :P