Yay! So happy! I just checked my blog and I finally hit 100 followers! You guys are awesome!
I'm still brainstorming the plan of action as far as celebration goes...but don't worry yourselves about it...I'll think of something. ;)
I'm super disappointed...I looked up 100 layer cakes, and this is what I found.
What kind of a cake is that!? I'm looking for some giant crazy awesome cake, and this is what I get?! What is this world coming to?...
---
P.S. Don't forget to click on the button below and
vote for me in the Love This Site Body and Soul Blog Award
! If I win, I'll do something really really ridiculously nice for you! How's that for bribery? haha. :D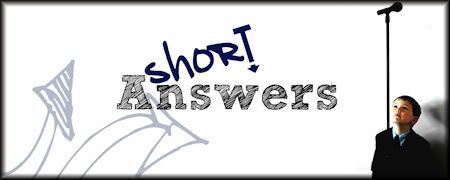 To grab this post banner, go here.
To join in, just ask the following 5 questions to the kid(s) in your life. Post their answers on your blog, then come back here and link up so we can read the brilliance of the child's mind!
What is soap made out of?
Silas: Milk, plants, cream…I bet? Is that it?
Well, no.
Oh. Well that's good. Next.
Jonas: Soap? Water and soap. I've made it a lot of times.
Why does Batman wear a cape if he can't fly?
Silas: Fashion. I don't know. Fashion.
Jonas: Just that it look cool. That's what dad told me…and Si.
What's the hardest thing in the world to do?
Silas: Hm…carry the…carry a…house.
When have you ever carried a house?
Never.
Well then, how do you know?
Because they're big and heavy and they have walls and they're interesting…and they're kinda big.
Jonas: Hm…um…building 3000 houses. That's the hardest thing, right? Well, probably not. Ok, well digging all the way to outer space!
What's something you wish you didn't have to do?
Silas: Clean.
Why don't you want to clean?
I don't know.
Jonas: Um, clean. And school. And always have to doing these answer things!
(Jonas always has ants in his pants!)
If you had a blog, what would you name it?
Silas: Scooter's Court!
That was quick. Have you thought about that?
Um, no.
Jonas: Um…Let me think for a second. The Blog Person. Yup.
HAVE FUN!!