Chiropractor
- Apparently playing the violin isn't very good for your back/neck. = 20 planned adjustments. O_O Yeah right...I'll be fixed in 8...
Orchestra Rehearsal
- 3 hours of crazy violin work and a little talk of discouragement on my part, and encouragement on my family's part afterwards. = renewed perspective and some extra motivation.
Church
- A few hours spent worshipping with fellow believers = A lovely afternoon, even with an evil cold.
And of course Starbucks, web design projects, etc. etc. etc. Just another few days in the blissful presence of my crazy, beautiful, amazing, wonderful, family. :)
Further proof of my family's awesomeness...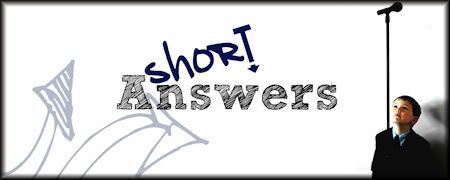 To grab this post banner, click here.
Where does popcorn come from?
Silas: Corn off of uh…fields? That one's easy.
Jonas: Um, you mean how do you make it?
Uh no, I mean where does it come from?
A machine? Right?
If you had to decide between eating brownies all day or going to the park all day, what would you choose?
Silas: Eating brownies. *grins* See, I like to eat all day…but I don't like to play all day. It gets boring. Anyway, brownies are delicious.
Jonas: The park. I hate brownies. They taste weird with nuts and stuff. And too much chocolate for me. I hate chocolate.
What's your favorite movie and why?
Silas: Huh. Star Wars is my favorite movie because it's got all the cool sounds and all the flips and cool moves…and the colors. It's cool.
But star wars is 6 movies.
Yeah, I like all of them.
Jonas: Because it's action.
Well, what is it?
I have hundreds of them. Men In Black…Indiana Jones…and that's it. And Spiderman and Batman.
What exactly is it that an author does?
Silas: Author?
Yup.
Probably plublish his books? Is that right?
Jonas: What is that?
You know…books?
It makes you learn how to read? So it teaches you how to read? I have an author book what's red and it's an owl and it's a two layer…I can read the whole book.
If you could look just like anybody, who would it be?
Silas: Anakin.
Why?
I don't know. He just…he's got a cool face.
Jonas: What?
If you could look just like anybody, who would it be?
James Bond. That's all.
Why?
Because I like his costume, but I don't like him. And I like his gun.