...but the greatest thing about life is that God
even cares
about that! I just can't quit marveling at the idea that Christ knows and cares so much that He even arranges the extra little things for me.
You know what my Heavenly Daddy did for me?
He gave me Star Trek Voyager season 2...what's more, at an affordable price. I know so many of you simply cannot relate to that particular topic, but I have to tell you, that pretty much made my weekend. I found it in the middle of the Wal Mart electronics section. For the longest time I just stood there, staring with mouth agape at the DVD pack that held many of my childhood friends and memories. I was literally shaking as I hurried to finish up the rest of the grocery shopping with Mom so I could get home and revitalize my inner trekkie. Oh dear...it felt amazing.
So...I kinda sorta forgot about Short Answers again today. *sideways grin* But I figured instead of canceling altogether, I would just post all of the questions for YOUR kids to answer, and I'll post my brother's answers later on. Sound good?
...Good, cuz it's happening. heehee.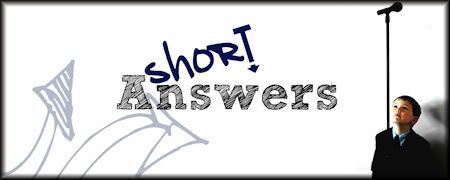 To grab this post banner, click here.
If you could meet anyone on earth, past or present, who would you choose?
If you could be really good at one thing you're not very good at right now, what would it be?
What's the best dream you ever had?
What are the four basic food groups?
What's the difference between a cow and a bull?
Edit: Oh my word....I was SOOOOO tired when I was writing this, I think I made about a million goofs--one being that I forgot to put on the link up! Gosh. Thanks Charlotte for reminding me! Now, you should all remind me not to post at 1:00 am anymore...okie doke? heehee.