Ok, I'm back to my blogging, and still partially sane….
partially
. Isn't it ironic that Christmas "break" can be the busiest time of my year? But still…it was fun.
Now, I won't call it a "resolution"….don't you think that word cheapens things? But, I have a few goals for 2010. First of all, I want to get really super-dee-duper-dee fit. I've weighed the same since I was 11 years old (with maybe a 10 pound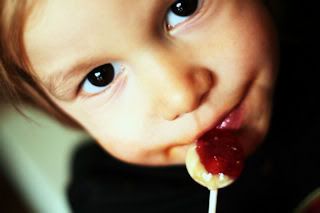 fluctuation), been this tall since I was 11 years old, and I promised myself years ago that before I entered adulthood—and consequently, ran out of time to do it—I would work myself into shape. So, I have a game plan. I think I'll keep you all updated on my workout/diet, and let you know some of my goals for myself. I find it FAR too easy to talk myself out of fulfilling those types of goals, but if I have you all as accountability, I'm seriously thinking this might work. (Well….we'll just say hoping. lol.) I'm not sure what I'll do for a workout yet…that might take me a few days to figure out. As for the diet...well, no more "a-candy-candy", as Harry would put it. Ha! (Of course, that lolli was organic.) ;D
Next, I want to become a crazy awesome violinist (or something like that), and make it into at
least
2nd violins (but working hard for 1st) in Youth Symphony (the orchestra above the one I'm currently in). This is the last year I can be in the youth orchestras, so I
have
to get in, or I'll lose my chance forever….and I'm completely sure I won't let that happen. So, here's me promising you, myself, and Jesus that I will give it my all, and all of it for the glory of God.
Most importantly…I will attempt to follow every prompt from the Holy Spirit. I tend to let my own plans and desires plug my ears, rendering me incapable of listening to His plans for me. Isn't it sad how we do that? Even if this overrules any of my other goals, I will follow his leading to the furthest extent that my feeble humanity will allow. This is a constant struggle for me…and I know I can't be perfect (won't ever be close)….but to experience a vivid change from day to day due to my spiritual growth is a necessity. So, rather than calling this a goal for 2010, I'd like to call it a daily prayer.
You know what's like….AMAZINGLY exciting? My mom bought a new camera for herself a couple of days ago, so as soon as she gets it in the mail….*squeals*….her other one is mine!!!!! What a great way to document my great aspirations for the big 1-0, right?
Anyway….my great adventure starts tomorrow morning. On my to-do list:
Start my morning in the Word



Do my wretched fantastic school



Cut refined sugar and grains out of my diet

(ouch)



Practice violin for 2 hours (balancing that and workout is going to be….nigh impossible.)



Begin evaluating workout options



Hang my head in shame for being the only person I know who is actually making resolutions….ahem….excuse me….goals.
On top of all that, I still have to keep up on laundry and be excellent to my family—cuz, let's face it; I would be LAME if I didn't do that. Haha. :D
P.S. New blog design is coming sometime in the near future! :)