Click here to grab the 32nd Street Blog Parade banner or to get more information about the blog party.
Hey everyone! I'm SO excited to visit all of you today and throughout the week! Don't forget to link up with your posts, so that I can see you! :)
1. What's your favorite time of the day, and why?
Early morning. There's nothing better than waking up at the break of dawn and watching the colorful sunlight pour in your window. KIDDING!!!! That would probably be my
least
favorite time of the day. My favorite is from around 7pm to whenever I go to bed. That's the time when I get to sit down and either watch a movie or (if it's Tuesday or Wednesday) American Idol with the family, and just completely chill afterwards with the sibs. SO. AWESOME.
2. If health wasn't an issue, what food could you live off of?
Well, since I said food (and not Starbucks--which would be my obvious answer otherwise), I have to say....Peanut M&M's!
They're pure, beautiful, delicious, amazingness--problem is, I don't eat (or endorse the use of) artificial colors. So, what's there to do? Dream on.
3. If you could have one wish granted (besides wishing for more wishes), what would it be?
I was going to say I'd wish for mad violining skillz, but then I realized that would be really unsatisfying. Who wants success from an artificial talent? No, I'd rather get artificial success from REAL talent. Makes sense, right? So, I would wish to solo for a movie score--like Hilary Hahn in "The Village" or Joshua Bell in "Defiance". That would be like....jaw dropping awesomeness.
4. What's one thing that you get teased about a lot?
My spontaneous intensity. I tend to kind of make up things that I'm really adamant about on the spot. For instance--someone says
"I don't think I could live without electricity."
So, naturally, I respond
"Are you kidding!? I've ALWAYS wanted to live without electricity! Wouldn't it just be romantic?"
Uhhhhh....where'd that come from? I would DIE without electricity!!!!!!
5. If you could choose one movie, book, or TV show to spend your life in, which would you pick? What type of character would you be?
It's really really....really...ridiculously hard, because I love SO many. I've finally decided though, it would be Star Trek Voyager, but with Jackie Chan. I would probably be an engineer--actually, B'Elanna (the half Klingon, half human engineer) reminds me of myself quite often. In my spare time, I would spend time in the holodeck--set in a Chinese garden, and Jackie Chan would teach me Kung Fu. Would that not be bliss?
6. If you could have one talent that you don't already have, what would it be?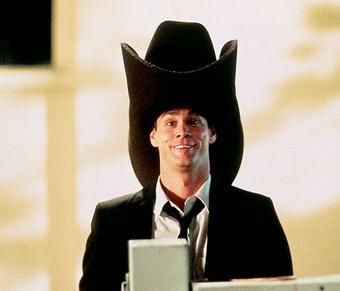 I would like to be able to make people laugh really easily. See, I think a LOT of stuff is funny. Problem is, the humor gets lost in translation--ya know what I'm saying?
7.If money were no object, where would you go on vacation?
I don't really know. Probably somewhere on the coast of Greece. It's SO gorgeous! But still...I'd probably get bored....so, I guess I'll say Los Angeles, Californ-i-a. :)))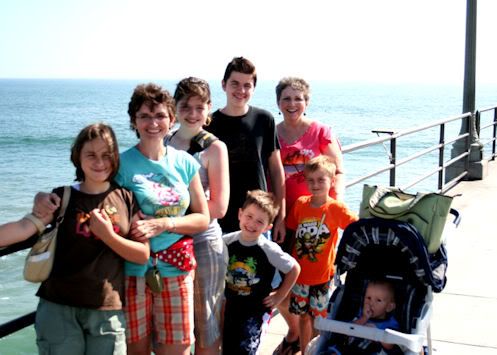 Don't we look happy?
8. If you were an awesome singer, which genre would you sing?
Probably like Norah Jones type stuff. That would be pretty next level.
9. If you could have a $10,000 shopping spree to one store, what would it be?
Amazon.com. Does that count? Well, it should.
10. If you could live in any point in time, when would it be?
The Victorian era...but only if I was rich. That may be lame, but I would totally want to live in a mansion and have butlers and maids and throw balls and stuff. If I wasn't rich, then it would have to be now.
11. If every outfit in your wardrobe had to be one color, what would it be?
PURPLE!
I think most people are going to say black...but I think I'd get sick of black sooner then I'd get sick of purple.
12. If you were one of the seven dwarves, which one would you be?
(Doc, Grumpy, Sneezy, Sleepy, Bashful, Happy, or Dopey)
Probably a cross between Bashful and Grumpy. So, Annoying.
13. What's the last album you listened to?
"Bulletproof Monk" soundtrack, by Eric Serra
14. What's something we'd be surprised to know about you?
I once considered selling my violin to pay for an Xbox 360. Can you believe that?!?! Me neither...I've had some pretty dimwitted moments in my life.
---
Don't forget--everyone who links up will be entered into 6 giveaways!



**New Giveaway Added!

{Giveaways 1, 2, & 3}
**{Giveaways 4, 5, & 6}


The winners will be announced on March 9th. Good luck, and happy hopping! :)