Some of you already know this, but the majority of you don't...
I'm in a band!
No, that might not surprise you. But it might surprise you to know that I'm actually the bassist.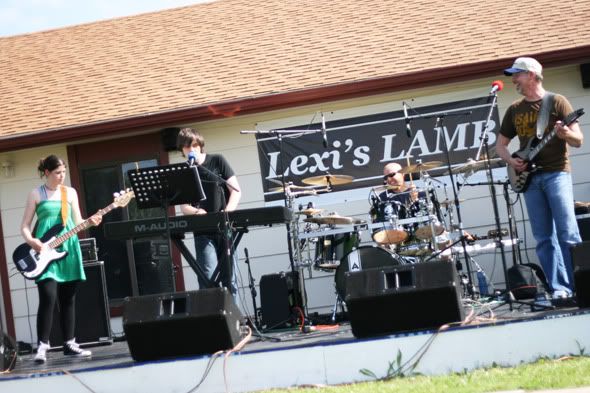 I started teaching myself (with guidance from my daddy) about a year ago, and it came pretty easily, because the string order is just the violin backwards!
Our band is called Thryc3born--Jared, me bruh, plays keyboard and is the lead vocalist, my dad shreds the guitar, and Mark, a friend we met through church plays the drums. Lately we've been getting some more gigs, and it's been a ton of fun! So, I thought I'd share a couple of videos from our most recent one--a benefit concert for an organization called
Lexi's LAMB
. I hope you'll stop by their website and read all about their amazing ministry!
Oh, and in case you were wondering...both of these songs were written by my insanely talented brother,
Jared
.
Don't forget to go to the top of my sidebar and hit pause on my blog theme so that you can listen to these without it sounding like a horror film.
This is the one Thryc3born song that I play violin on. I'm pretty sure all of you will like this one--it's absolutely GORGEOUS. You can read about the message of the song at
my momma's blog
. (Sorry for the crazy camera work. My multitasking mother decided to try to take pictures and video at the same time. Ha!)
This is one of my faves! For some of you, it may not be your cup of tea--but don't worry. I PROMISE I won't be offended if you don't like it. Promise. lol. ;)
And if you REALLY love me! (ahem....the band), then you
could
, hypothetically
become a fan
of us on Facebook. If you wanted to....hypothetically.
When we got home from the concert, guess what I found out....
I won a poetry contest over at Summer Girl!


Ok, so....I know my reaction should have been something humble and beautiful and well...poetic. But you know what my first reaction was?
"Hey Jared! I won 1st place in a poetry contest! Oh my word...I just excel at SO many things!"
Ha! Now, before you think too terribly of me, I should tell you that that whole statement was spoken in jest. Completely teasing. Truthfully, I was honored and thankful. I can only say that God works in wonderful ways when we take the time to put our thoughts into words. Poetry can only be described as something greater being communicated through us, as vessels. Praise God!
{Visit Summer Girl to read my poem, and all of the other wonderful poems that won!}