Sometimes I feel old. Sometimes I realize how young I really am...and sometimes, I feel that my days of aspiring youth are still in my grasp, but quickly slipping away.
As some of you might know, I'll be graduating in the next couple of months, and while I feel completely ready for it, there are certain things that feel a little bit like giving up my pacifier--which, by the way, I didn't do until I was almost four years old. A couple of weeks ago, I had my very last orchestra concert. Beforehand, I was looking forward to being done; not having to wake up early every Saturday morning for practices, or having the extra workload sounded splendid. Yet, as I waited to walk onto the stage with fellow musicians for the last time, I realized just how much I loved being able to play sensational music with so many talented people.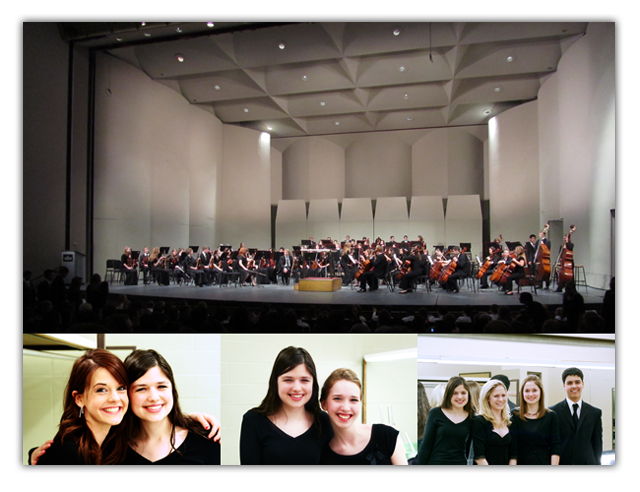 I played my best, and enjoyed it thoroughly--drinking in the acoustics of the concert hall, and swimming in the delightful pool of woodwinds, within a warm meadow of cellos. The sweetness of it all only increased my nostalgia.
My teacher, Laura, and I
Now, I await my final violin lesson. What a strange feeling this is! I've been taking lessons for six years, only taking a couple of summers off (towards the beginning). About two years ago, I realized that I really loved the violin. I practiced hard. I auditioned for orchestra, and began to see the results of hard work. My newfound desire to strive and achieve prompted me to seek instruction from a violin teacher who could help build a new path for me, with the aid of my fresh perspective. She went above and beyond what I could hope--instilling, along with skill, a passion for violin inside of my heart. She encouraged expression--my own, as well as the written expression of the composers. I did, regretfully, sometimes shrug opportunities to work hard, and excel. However, I wouldn't change any of my experiences. It's been those failures and consequent successes that have encouraged me to
always
play my violin. The violin and I could be symbiotic...and I've got a lifetime of independent study to achieve that chemistry.
So, now that you all are further convinced of my hopeless case of nostalgia, I'll bid you adieu, with this, my favorite piece from my last orchestra performance.
Le Roi D'ys Overture - Edouard Lalo
make sure to pause the music at the top of my sidebar before watching this.