First off I'd like to ask you a question...
Why does sugar have to be so darn delicious?
Actually, don't answer that. It really doesn't matter. With or without the delicious factor of sugar, other things are just as delicious, and I'm choosing the alternative deliciousness, so as to avoid the detriment caused by overdosing on the deliciousness of sugar. Make sense?
I like to call it
healthifying
.
My breakfast this morning - complete with spinach, matcha tea, frozen fruit, & a raw cage-free egg. Yum! (No, really...YUM!)
Praise the Lord tea and (black) coffee are healthy! Although, I must admit, I don't always choose to take them the healthy way.




Oh, and do you see that book next to my colossal cup of Yogi Kava Stress Relief Tea? (Yes, that was a shameless plug, because it is my FAVORITE tea!)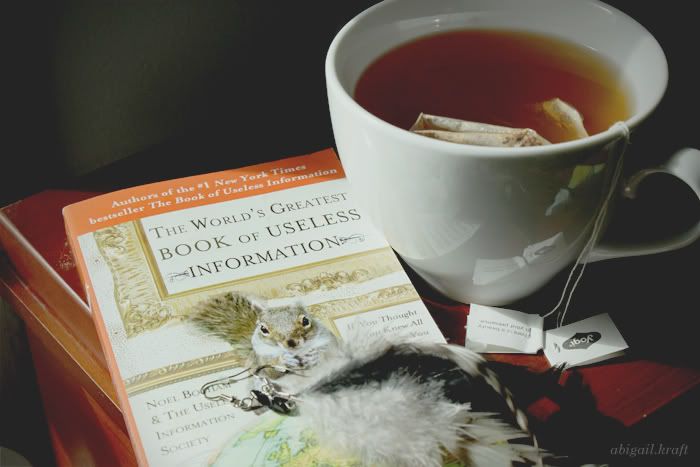 It's called
The World's Greatest Book of Useless Information
, and it's truly full of amazingly useless information.
For instance, did you know...
"One brow wrinkle is the result of 200,000 frowns."

"In 1983, a woman was laid out in her coffin, presumed dead of heart disease. As mourners watched, she suddenly sat up. Her daughter dropped dead of fright."

"Children born in the month of May are, on average, seven ounces heavier at birth than children born in any other month."
It's magically entertaining, and it's given me excellent silence breaking conversation topics ever since I bought it. Fun!
Ok, onto topic #2.
A few weeks ago, I wrote
this blog post
asking for your opinion on blogging - specifically
comments, effort,
and
trends
. You all gave me some great insight, and shared your opinion in much appreciated detail. I encourage you to go and read through the comments on that post - getting into each other's minds and understanding one another can really help us improve our blogs - but, I would like to offer a summation here.
Comments
In general, it seems that people are most likely to comment when they can either relate to the topic of the blog post, or if it's just a high quality and entertaining post. So, how does this help us? In posting, I really want to offer something to my readers; whether it's in relating to each other, and getting to know each other (encouraging the community aspect of blogging), giving someone a little something to cheer up their day, or a host of other things... The important thing is that readers leave having gained something from their visit. The more we focus on this, the more, I believe, we'll be blessed by comments, and really getting to know our readers on a personal level.
Effort
I think we're all in agreement that effort really needs to be focused on being
yourself
, and providing quality content that reflects that. Growing a blog isn't really worth anything if you don't stand firm in the integrity of your own uniqueness. Blogging is an amazing way to share the things that
you've
been blessed with the ability to share! When we're willing to show exactly who we are, unabashed, it makes people feel at home. We all crave a little "realness", right?
Trends
Well...first of all... *fist pump* You noticed them too! Ha! Most of your comments stressed the importance of good judgement when it comes to trends - some, are definitely great for engaging readers and enhancing the aesthetic of a blog, but we need to be careful that we don't do specific things, just because so-and-so with 10,000 followers does it. Once again, our blogs are reflections of us, and we should consider the trends that allow that to come through.
So, thank you so much for all of your input! I really appreciate it. Now, off to make myself french pressed coffee, and get to work on some things. Have a lovely day, friends!