Yes, it's true. I'm a candle junkie ... How 'bout you?
Cheesy. I know. Sorry.
More often than not, I have a candle burning in my room. Something about walking into a room and being greeted with a comforting and homey scent just makes me feel fantastic. However, I simply can't get myself to leave a lit candle unwatched. You never know when that right air gust is going to come from a vent, sending a highly flammable object flying towards the open flame...Eh. Can't risk it.
For this reason, the concept of
Scentsy Wickless Candles
makes me a very happy girl!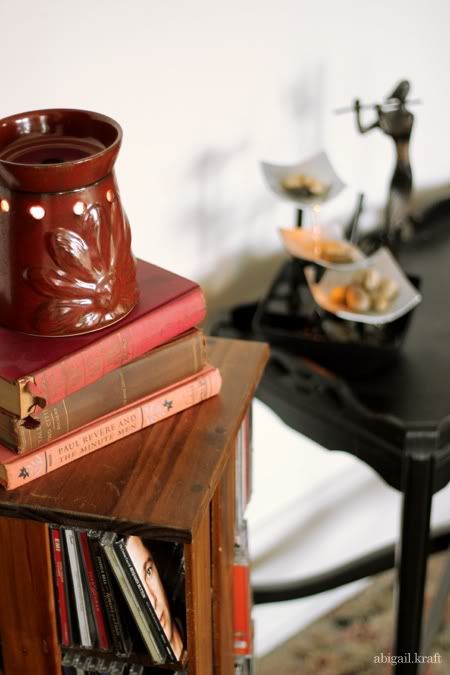 In the words of Scentsy consultant, Rachel Antone...
"Scentsy Wickless Candles are ceramic warmers that are a safe, decorative alternative to a candle. There's no flame, no smoke and no lead – so that means no worries for you! They are safe around kids and pets, and are safe to use in your home, classroom, office, or anywhere! How are they so safe? The ceramic warmers use a low watt light bulb that melts specially formulated Scentsy wax, creating a long lasting aroma that fills any room. There are so many beautiful warmers to choose from and they come in a variety of sizes ranging from plug-ins, which are perfect for bathrooms and laundry rooms all the way to full-size warmers, which are perfect for any size room. And with over 80 scents, you are sure to fall in love with several scents."

I'm excited to say that Rachel is not only offering a
Plug-In Warmer and Scentsy Bar of your choice
to a lucky
one
of you, but she is also offering a
Scent Circle
to
three more readers
!
Along with the mandatory giveaway entry of
participating in my Authentic People Blog Party
, Rachel has requested a couple of additional entry options - so your chances of winning this great gift from Scentsy are even better!
Additional Entry Options...

1


Go to Rachel's website, come back to this post, and leave a comment about which warmer and scent you would like most.



2


Visit Rachel on Facebook (Rachel Antone - Scentsy Consultant), and LIKE her page, then come back to this post and leave a comment saying you did so.

By "liking" Rachel's Facebook page, you will automatically be entered in future giveaways that are done on a regular basis, only on that page. Orders can be placed from her website, and will ship directly to your home within 7-10 days.
Deadline for entries is
11:59pm CST on November 24
- Winners to be announced on November 25.
Good luck!